Andrea Salinas
is a main cast member on
Little Women: Atlanta
.
Biography
Andrea Salinas was born on April 18, 1993 in Texas. She has an older identical twin sister named Amanda who was born on the same day, two minutes before her. Both Andrea and her sister have Achondroplasia dwarfism. Before she and her sister were on Little Women: Atlanta, they were club dancers, and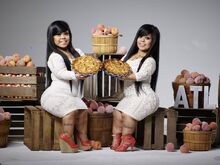 performed together as the "Tiny Twinz", and became like legends within the little person performer community. They moved to Atlanta for more opportunities to perform at clubs. In season 3 of Little Women: Atlanta, Andrea and her sister decided to quit club dancing, and do things such as club promoting and hosting.
Andrea has appeared on the 'Couple's Retreat' episodes of Little Women: LA, alongside her boyfriend Chris Fernandez.
Behind the Scenes
Andrea has a boyfriend named Chris Fernandez. They have been in an on and off relationship for over 5 years. They have two children together: André (4 years old) and Aubrey (1 year old). Both of their children have

Achondroplasia dwarfism. When their son André was born he was very sick, and almost died. He was diagnosed with Lung Disease. Thankfully, he pulled through his illness. He lives in Texas with his maternal grandparents Janie and Oscar so that he can stay close to his doctors.
Salinas and Fernandez welcomed their third child on December 22, 2017. The baby's gender will be revealed during Season 4 of Little Women: Atlanta.