Caylea Woodbury
is a main cast member on
Little Women: Dallas
.
Biography
Caylea Woodbury was born on July 15, 1995 in Salem, New Hampshire. They type of dwarfism that she has is Achondroplasia. Before she was on Little Women: Dallas, she worked as a go-go dancer. Later on in Season 1 of the show, Caylea attended Tint School of Makeup and Cosmetology, and received her makeup artist certificate.
Caylea made a guest appearance on Little Women: Atlanta on the Season 4 episode titled, "Juicy's Got Talent".
Behind the Scenes
Caylea has known castmate Bri Barlup since childhood, and was best friends with castmate Tiffani Chance. She is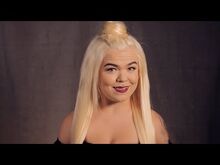 also friends with former Little Women: LA cast member Brittney Guzman.
Caylea is not the only little person in her family--her father Paul also has Achondroplasia Dwarfism.
In Season 1, Woodbury became pregnant with her first child. But unfortunately, she miscarried after 6 weeks and 6 days of pregnancy.
Caylea is currently dating a man named D'Quan Cage. They have been together for over one year. The couple got engaged in 2017. They also recorded a song together called, "Give Her A Tip".