Karter Bowen is the son of Little Women: Dallas cast member Bri Barlup.
Biography
Karter Lee Bowen
was born on February 9, 2018 to
Bri Barlup
and
Robert "Wooda" Bowen
. He has an older brother named
Malik
, and a half brother named Woody.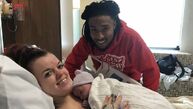 It is currently unknown to the public if Karter has dwarfism.