Robert "Wooda" Bowen
guest-starred in episodes of
Little Women: Atlanta
and
Little Women: Dallas
.
Background
Wooda first appeared on Little Women: Atlanta as the father of Bri Barlup's son, Malik. The two were never in a relationship, and have known each other for over five years. They went to a relationship counselor, where Wooda said he saw himself in a relationship with Bri--just not at that moment, and admitted that he was intimate with another woman at the time.
The two agreed to co-parent their son Malik, and even lived together despite their failed attempts to form a relationship.
Many months after Bri, Wooda, and their son Malik moved to Dallas, Wooda left Bri and Malik behind to pursue his music career, since he had gotten signed to a record label. On the Season 2 reunion of Little Women: Dallas, Wooda makes his return after not being in quite a few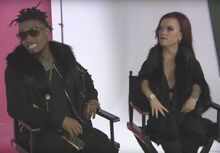 episodes in Season 2. Some light is also shed on he and Bri's relationship. Wooda revealed that he was never out of the picture with Bri, even when she was dating another man briefly. He also said that he didn't want to form a relationship with Bri at the moment.
Behind the Scenes
Wooda is the father to three children. Malik Bowen (4), who's mother is Bri Barlup, and Woody (6), from a previous relationship. Like his mother, Malik has Achondroplasia dwarfism. Bowen's third son (a boy, who's mother is also Barlup) was born in February 2018. His name is Karter Lee Bowen. It is currently unknown to the public if Karter has dwarfism.
Wooda also has a sister named Chee Chee.
Wooda is a rapper under the name "Ratchetasswooda". He has recorded over a dozen songs, including, "I'm Gone", featuring Little Women: Dallas cast member Emily Fernandez, and "Thumb Thru It", also featuring Fernandez and Bri Barlup. He released his first mixtape titled, "$ex, Drugs, & Pesos", on March 21, 2016.
In 2017, Wooda got signed to a record label.