Tiffani Chance is a main cast member on Little Women: Dallas.
Biography
Tiffani Chance was born on February 27, 1992. She graduated from Raphael's School of Beauty Culture, inc. in Ohio. Before Tiffani was on Little Women: Dallas, she was a cosmetologist.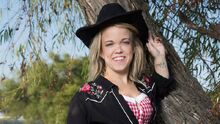 Behind the Scenes
Tiffani has a boyfriend named Austin Skovran. Austin is average-sized. They have been dating for five years. Tiffani was best friends with castmate Caylea Woodbury.